Carole Wharton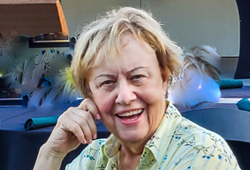 When I arrived at Emory in the fall of 1959, I was a country girl who had never spent time in a big city or traveled outside the United States. I knew from the start that Emory & Henry College was the perfect place for me - a place full of so many people with so much knowledge - and I was hungry for all the College had to offer.

From Dr. George Stevenson, I learned the value of a big picture perspective; from Mr. Fred Parkhurst, the importance of getting the facts straight; from Dr. Robert Goldsmith, the kindness of leading with the positive when giving feedback; and from Dean Mary Cox I learned that wisdom, though it may come hard and it may come late, is the greatest asset of all. I also learned from my classmates who were willing to challenge me and tell me exactly what they thought when I was going astray.

I look back on my college years and treasure what transpired at this amazing little place in the hills of Virginia. Emory & Henry was for me and continues to be a reservoir of knowledge, spirit, and caring - all there for the taking and with wonderful guides and friends for life.

Emory & Henry College filled me with curiosity, armed me with eagerness and energy, and sent me forth with the confidence to take on whatever life threw at me. But it never let go of me completely. Professors kept up with me by sending references and encouraging me through graduate school and my first jobs. Friends kept up by letter, phone, through visits, and at weddings.

Our first years out were focused on graduate or medical school, getting married, and finding the first real job. Then we had children, bought homes, built careers, moved around, connected to the communities and causes we cared about, and finally let our children go. Whatever we dreamed of doing or being we have done now, and I can't help thinking that it's time for us to give back to that place where the foundation for our lives was formed.

Through the years I have given to the College's annual fund and to various memorials, scholarships and projects. But recently I decided to make a bigger commitment and have chosen to include the College in my will. I have set aside an amount in my estate that will help future generations of young people who come from the hills and hollows of the Appalachians have their character developed and lives enriched by this caring place just as I did.

I entered Emory & Henry College a girl and came out a woman as a result of four years filled with discovery, challenge, and perseverance. I sincerely hope that other alumni will reflect on the transformative effect Emory & Henry College has had on their lives and consider making Emory & Henry College a part of their estate plans.