Carter Aylor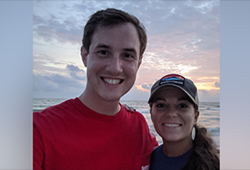 The motto of the Dom-I-Necher fraternity at Emory & Henry College is "Letters Don't Make an Individual, Values Do." It was witnessing this motto in practice by his fellow classmates that inspired Carter Aylor '14 to begin his philanthropic giving to Emory & Henry College while still enrolled as a student.
Carter recalls hearing how his fraternity brothers were among the first on the scene after an EF-3 tornado swept through Glade Spring, killing four people and destroying hundreds of homes and businesses. Members of the Dom-I-Necher fraternity rescued residents, students and college employees that night and provided comfort until help could arrive. The Dom-I-Necher fraternity takes its name from Saint Dominic, the patron saint of astronomers, who used the stars to guide him as he traveled by night. Needless to say, this courageous group of young men were certainly a saving light in the dark to those they rescued and comforted.
One of Carter's fraternity brothers was forced to leave his car stranded on I-81 due to the traffic backup and debris blocking the interstate. He was later charged $120 to have the vehicle towed, but to him the fee was well worth it and he was grateful to be in the right place at the right time. Former Delegate Joseph P. Johnson '57 was also a member of Dom-I-Necher during his time at Emory & Henry. When Delegate Johnson heard about the towing fee, he immediately came to campus to reimburse the fee back to his younger fraternity brother.
It was during Air Band 2012 that Carter came up with the idea to establish a scholarship in Delegate Johnson's honor. Carter was a work study student in the Office of Institutional Advancement and worked with staff to start and fund the scholarship. Carter started fundraising for the scholarship as a student and continues to contribute to the scholarship today. He says that raising money to honor Delegate Johnson was an integral part of a project he worked on as a student and member of a fraternity.
In addition to his annual giving, Carter also has Emory & Henry listed as a beneficiary on a whole life insurance policy with the proceeds going to the scholarship.

Carter says, "Using an insurance policy is a smart way for younger alums to do legacy planning. Everybody should have some type of estate plan regardless of their age. Younger alums will also oftentimes have an employer-sponsored life insurance policy. This is also a great way to leave a legacy without having to make a large donation up front. I'm taking care of Emory & Henry while at the same time taking care of my family. It's important to leave an impact of something lasting."
Carter is married to Blair Vaughn Aylor '16 and is Assistant Director of Development for Virginia Tech's College of Science. Carter and Blair live in Christiansburg.